Few areas within London symbolise the capital's endless ability to reinvent itself better than King's Cross.
The area around the station has, over the past 200 hundred years, played a wide variety of roles. Initially an industrial heartland and one of London's prime manufacturing locations, it gradually declined over the second half of the 20th century as these industries decayed and retreated.
By the 1990s, King's Cross was a graveyard of abandoned warehouses and derelict factory sites. Although this relative abundance of open, unused space did allow the area to make something of a name for itself as a clubbing hotspot hosting underground raves, it didn't provide the basis for secure, long-term prosperity for the area or its residents.
However, things began to change in the late 1990s and early 2000s, mainly due to two key factors.
Firstly, the decision to move the Channel Tunnel Rail Link from Waterloo to King's Cross brought fresh hope that the area could progress. It was initially strong transport links that had brought industry to the area back in the 19th century, and so it is appropriate that the same theme has reoccurred in more recent times.
Secondly, the area benefited from a fantastic development partnership that brought together the right range of expertise, experience, and capital to unlock the area's true potential.
Formed in 2008, the development company behind this transformation is the King's Cross Central Limited Partnership. Work started soon after this, and today the development can boast that it has attracted a wide array of clients to the area.
Companies like Facebook and Universal Music have already moved into office space there, and Google's new and highly ambitious 'landscaped' head office is currently under construction. The picture below sourced from Ham&High shows an artist's impression of the final design next to the currently in progress architectural masterpiece.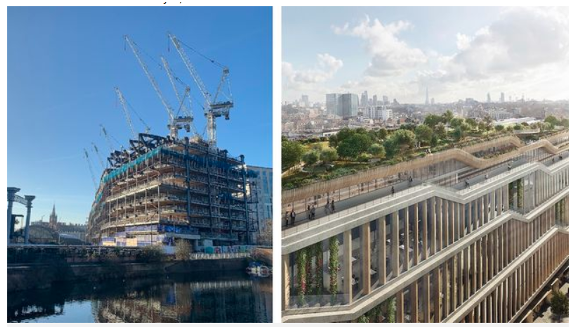 What can King's Cross teach us about successful real estate investment?
The redevelopment of King's Cross is therefore the epitome of a successful large-scale real estate project. It combined great vision and ambition together with adequate funding to make it happen.
However, that is not where the lessons end.
Today, the King's Cross Central Limited Partnership is owned by Argent, one of the UK's most successful commercial real estate companies, Hermes Investment Management, and Australian Super, Australia's biggest pension fund.
As such, King's Cross is a textbook example of a large-scale, highly lucrative real estate investment that is simply not on the table for ordinary middle-class investors to take advantage of.
Here at Shojin, starting to bring large-scale real estate investments within the reach of ordinary professionals is our mission – in this article we talk a little more about one specific way we do this.
Introducing the middle-market funding gap
As any business grows, it inevitably needs access to more capital. This is especially true of developers, where capital requirements can rise more than proportionally as the physical scale of projects increases. This can be thought of as a 'funding gap' that effectively prevents some developers from scaling up their projects.
According to our analysis of the market, there is in particular a funding gap for projects requiring between £1m to around £7m of
junior fundin
g
and growing their business.
Senior funding, by comparison, is much easier to get. The arrival of numerous private equity-backed challenger banks on the UK financial scene has meant a relative abundance of capital being deployed here. This is a welcome development, as the many high street commercial banks have recently been less willing to invest in this space (or, in most cases, are incapable!)
Too big for some sources of finance, not big enough for others
These challenger banks have become much needed engines of productive investment in the real estate sector, but many developers still require junior funding in the form of equity.
This is a natural occurrence derived from the fact that as a developer's business grows, they move beyond some sources of small business finance – i.e. capital injections from friends and family – but are not just big enough to attract the attention of the bigger players.
Ironically, in today's market it can often feel as though it is easier for a developer to raise £20m in equity than to raise £2m in equity.
The main outcome of this middle-market funding gap is that many viable and socially-desirable projects are left unfunded. This shortage means that middle-market projects, which we term those with a cost of between roughly £10m and £50m, have a much higher profit margin. This is a logical result of there being fewer developers operating in this space and chasing those middle-market deals due to the lack of available finance.

How is Shojin helping to fill the middle-market funding gap?
Here at Shojin we can't promise that we'll enable our investors to participate in global mega-deals such as the redevelopment of King's Cross.
However, as outlined above we have identified a discrete sector of the UK real estate market where we have developed a highly successful approach to real estate investment that we can share with our investors. Importantly, this approach allows for a series of interlinked 'wins' to take place.
In essence, by providing equity in the middle-market development space, we can leverage our own extensive property investment expertise to bring great returns to our investors, whilst also enabling fantastic regional developers to grow, and even helping to ensure that enough accommodation is built for future generations in the process.
In particular, many of the projects we fund, such as city-centre apartments and purpose-built student accommodation, would in all likelihood not otherwise have been built due to how poorly served such middle-market developments have been.
Wherever there is a social need that is going unfunded, there is not only a business opportunity but a chance to incrementally improve society along the way. Today, Shojin is proud to bring a wide range of lucrative middle-market real estate investment opportunities to the broader market.
Back to top